MAP BOOKS
Wall Map Detail with Map Book Convenience!
Wall Map detail with Map Book convenience! All CustomMapping.com products are now offered in both Wall Map and Map Book formats. Put that large Wall map on display and carry the Map Book around with you!
Available for every state, metro, city, and county, as well as any custom area.
Map Book Sizes:
8.5x11 inches
11x17 inches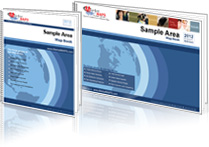 Order Today! Call Us Now 1-888-434-7277
CUSTOM MAPPING DEPARTMENTS